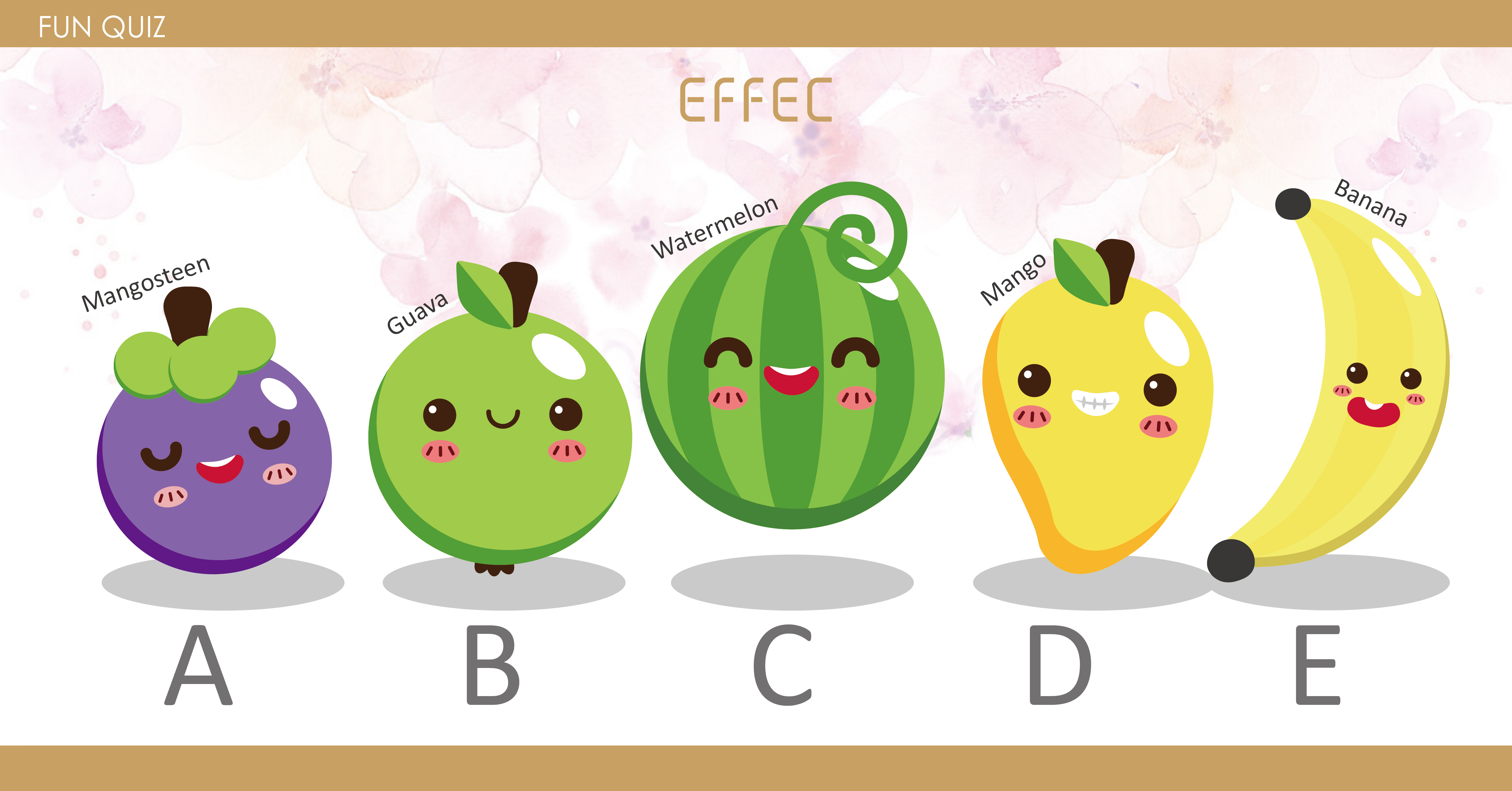 Would you meet your soulmate recently?

Q : which fruit you would like to eat now ?
Mangosteen
May be miss your soul mate recently! Because you haven't met the people who you want to pursue, you had too many aspects to consider. It is suggested that you should get along with people in a relaxed, natural and manner. Even if there is no love development, at least have a good interpersonal relationships will help in all aspects.
选择山竹的你,最近可能与桃花无缘!因为你自己也没遇到想追求的人,另一方面则是你考虑的层面太多。建议你以轻松自然的态度与人相处,就算没有爱情上的发展,至少打好人际关系,对各方面都有帮助。
Guava
You are very longing for love, but you are afraid to be hurt. So you just want to protect yourself and show apathy or carelessness. You look like a stranger and that can really influence what people think of you, so even if others interesting to you will never dare to approach you.
选择番石榴的你,内心非常渴望爱情桃花降临,但期待又害怕受伤害,所以你武装自己,表现出冷漠或漫不在乎的样子,一副生人勿近的样子,而影响别人对你的印象与看法,所以就算别人对你有意思,也绝不敢轻举妄动。
Watermelon
Congratulations! Recently, you going to be the most popular king. Become the focus of attention, so you will be more self-confidence and charm, also attracted a lot of appreciation eyes, opportunity to meet soul mate greatly increased! There are many excellent target. Stop being swayed by the shadows of the past. You need to fight for getting your own happiness, quickly develop your power of love.
选择西瓜的你,恭喜啰!最近的你可说是人气王,走到哪都是受人欢迎的焦点,因此添加了许多自信魅力,也吸引不少欣赏的目光,桃花机缘大增!其中不乏优秀的对象,别再被从前阴影所羁绊,幸福靠自己追求,赶紧发挥爱的力量吧!
Mango
You have no confidence in yourself recently, unclear for relationship goals, poor sensitivity and judgment in relationship. You have opportunity to meet some new friends, but you must to guess the sincerity of the other party , don't flatter yourself and sentimentality.
选择芒果的你,最近对自己没什么自信,感情缺乏明确目标,对桃花的敏锐度与判断力不佳,有机会认识新朋友,但要旁敲侧击对方诚意,别在事情都还处于暧昧不明时就贸然投入,以免自作多情甚至为爱心伤。
Banana
Although recently you are being lucky in love, but you do not seem to be happy, and also will affect your emotions, even if someone appears to make you excited, both of you relationship are ambiguous. Compared to the love, single more relaxed and comfortable.
选择香蕉的你,最近虽然有桃花,不过你好像不会因此开心,反而会影响情绪,就算出现让你心动的对象,也是暧昧不清到让人无奈,比起为爱费心伤神,单身更显轻松自在。
Other skin care tips that you may also interesting: