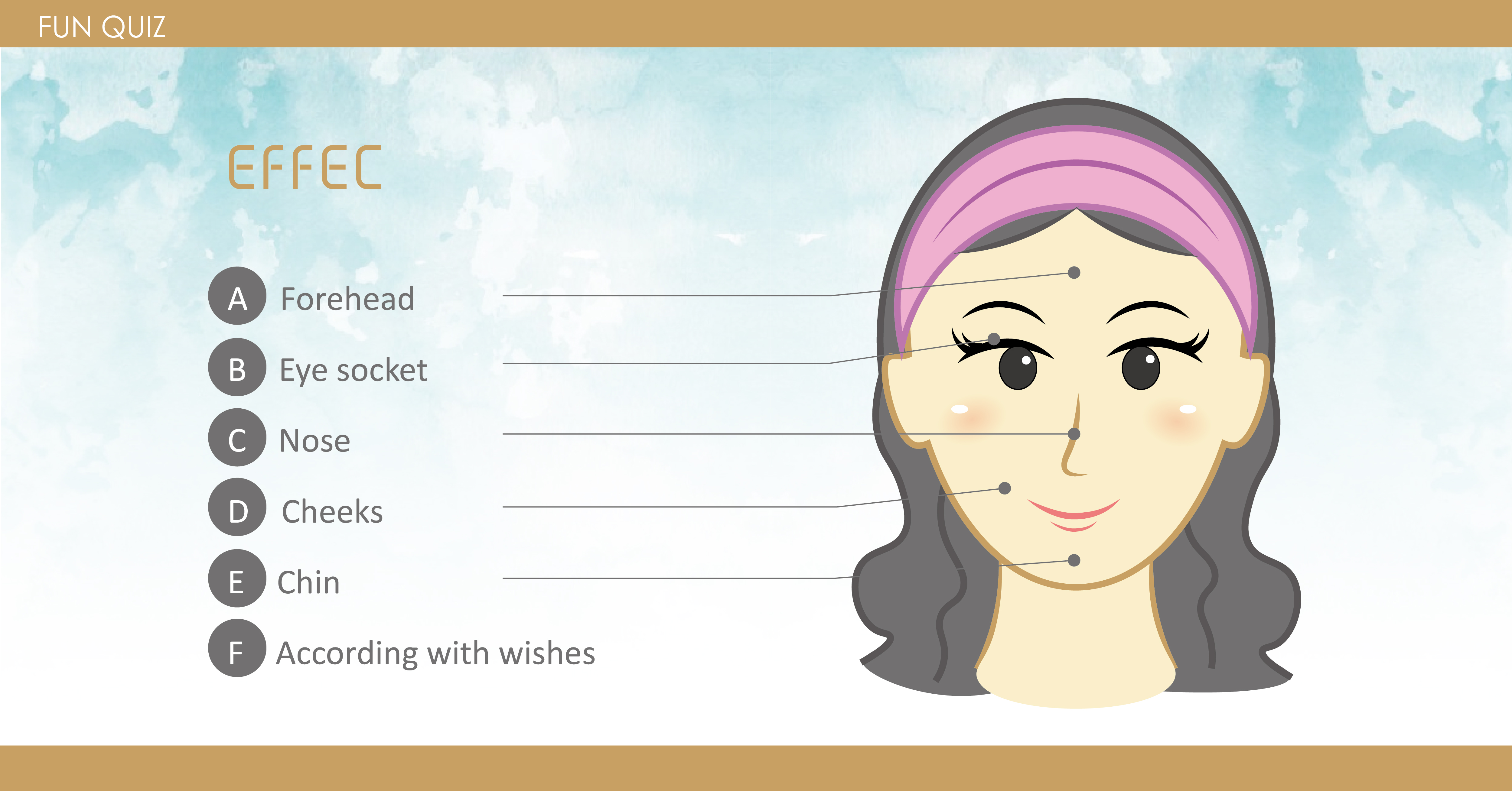 Test your personality from washing face
Q : Which part will you start washing ?
A. Start from forehead
People who like to start washing their foreheads are usually more organized people. You are a very casual person who enjoy life very well, has leadership skills and charisma in school or work. You have a good habit, you like to process your thoughts while washing face. This type of person is low emotional, and the like and dislike of things are not easy to show on the face, the real thoughts is hidden in heart. In addition, the success index of such people in career is quite high.
从额头开始洗:通常喜欢额头开始洗脸的人也是属于做事比较有条理的人。你是一个很休闲的人,这种人很懂生活,无论是在学校里还是工作上都颇具领导才能和人格魅力。你这种人大多有一种很好的习惯,就是喜欢趁着洗脸的时候沉淀一下思绪,这类型的人比较不会情绪化,对事物的喜恶也不易表现在脸上,而是将真正的想法藏在心里。除此之外,这种人在事业上的成功指数还蛮高的。
B. Start from eye socket
You are the kind of person with romantic.When you hang out with friends, always want they listen to your arrangements.People who like to start washing around their eye sockets are also narcissistic people who like to spend a lot of money and time for themselves.You like new things, love enjoyment.You are not sleek in dealing with people and do not value other people's strengths. Instead, you care about other people's weaknesses. Indecisive and strong dependence on work. They are also not acceptable the criticisms and opinions from others.
从眼窝开始洗:你是那种有小情调的人,这种人喜欢浪漫。你和朋友在一起时总是想让别人听从你的安排。通常喜欢眼窝周围开始洗脸的人也是属于比较自恋的人,喜欢为自己花费大笔的金钱和时间。你喜欢新鲜事物、爱享乐。你在为人处事方面不够圆滑,不看重别人的长处,反而比较在乎别人的短处。在工作方面,依赖性比较强,有些欠缺主见,对别人给自己提出的批评和意见也不太容易接受。
C. Start from nose
You belong to people who have a certain aesthetic taste. Such people usually have good habits on their life and work.People who like to wash start from their nose, they like to pursue beautiful things, as well as gentle and lingering feelings. This kind of person's love story is also quite romantic!You prefer to be alone and do not like to the kind of group life.In terms of work, you also don't like to be too rigid and like to work on beauty.
从鼻子开始洗:你属于那种有一定审美情趣的人,这种人通常有良好的生活习惯及工作习惯。喜欢从鼻子开始洗脸的人喜欢追求美好的事物,以及那种温柔而缠绵的感情。这种人在感情方面的故事也相当具有浪漫色彩哟!你比较喜欢独来独往,不习惯过那种闹闹哄哄的团体生活,即使是和朋友一起出门,也不能委屈自己将就别人。在工作方面,你也不喜欢太过于拘泥,喜欢从事和美有关的工作。
D. Start from cheeks
You are economical and practical, and you will not waste too much time and money on entertainment. Usually this type of person is a more skillful person. You are very conceptual about time and money. Be proficient in financial management. This kind of person will plan before doing something, wait for the plan to be done, evaluate the probability of success, and wait until all the conditions have matured before starting to act. This type of person must avoid too much emphasis on money and honor. Don't become a workaholic without self!
从脸颊开始洗:你属于经济实用型的人,你不会浪费太多的时间和金钱在享乐的事情上。通常这类型的人是属于比较精明能干的人,你对于时间和金钱都很有概念,在理财方面更是有一套呢!这种人在做一件事之前会先计划好,等计划做好了,再评估一下成功的机率是多少,然后等一切条件成熟了之后才开始行动。这类型的人要避免过于看重金钱和荣誉,千万别变成没有自我的工作狂!
E. Start from chin
You belong to those who acts and gets things done. Such people value their desires and try to satisfy themselves by every possible.People who like to wash their face from the chin usually straightforward. They are less likely to plan their work in advance, even though they set goals very high and even require perfection.In fact, this kind of person's attitude toward doing things is very down to earth, but they often do not care. In the work, it is best to go step-by-step. Don't rush to achieve success in everything, so that the bigger the hope is, the greater the disappointment will be.
从下巴开始洗:你是属于先做后说的人,这种人很看重自己的欲望,然后千方百计地去设法满足自己。通常喜欢从下巴开始洗脸的人性格比较直,也没有什么城府,比较不会事先规划做事的程序,尽管他们把目标订得很高,甚至要求达到完美的境界。其实,这种人做事的态度还是非常脚踏实地的,只不过常力不从心。在工作上最好还是一步一个脚印的来,凡事不要急于求成,免得最后到头来搞得自己希望越大,失望也就越大哟!
F. According with wishes
You are a child of innocent type, and this kind of person refuses to grow.Everything is habitually accepted by others and likes to be taken care of by others.In terms of personality, this kind of person is more easy-going, with no opinion, no problem, no problem with school, no conflict with others, and a weak person. In terms of work, it is also more obedient and more embarrassing. Anything will be dealt with by the supervisor. People with this personality often have a bit of sadness, and often become scapegoats for others without reason. Therefore, it is recommended that such people be more mature and better.
随便抹一把:你属于童心未泯型的人,这种人有点拒绝成长。凡事都习惯性的接受他人的安排,喜欢被别人照顾。在性格上,这种人比较随和,没什么主见,很好相处,在学校里也不会和他人起冲突,是属于弱势的人物。在工作上,也是比较听话,比较乖的员工,什么事情都会按主管的意思去处理。这种性格的人往往都有点悲,经常会无缘无故就成了别人的替罪羊,所以,建议这种人快些更成熟比较好。
Other skin care tips that you may also interesting: