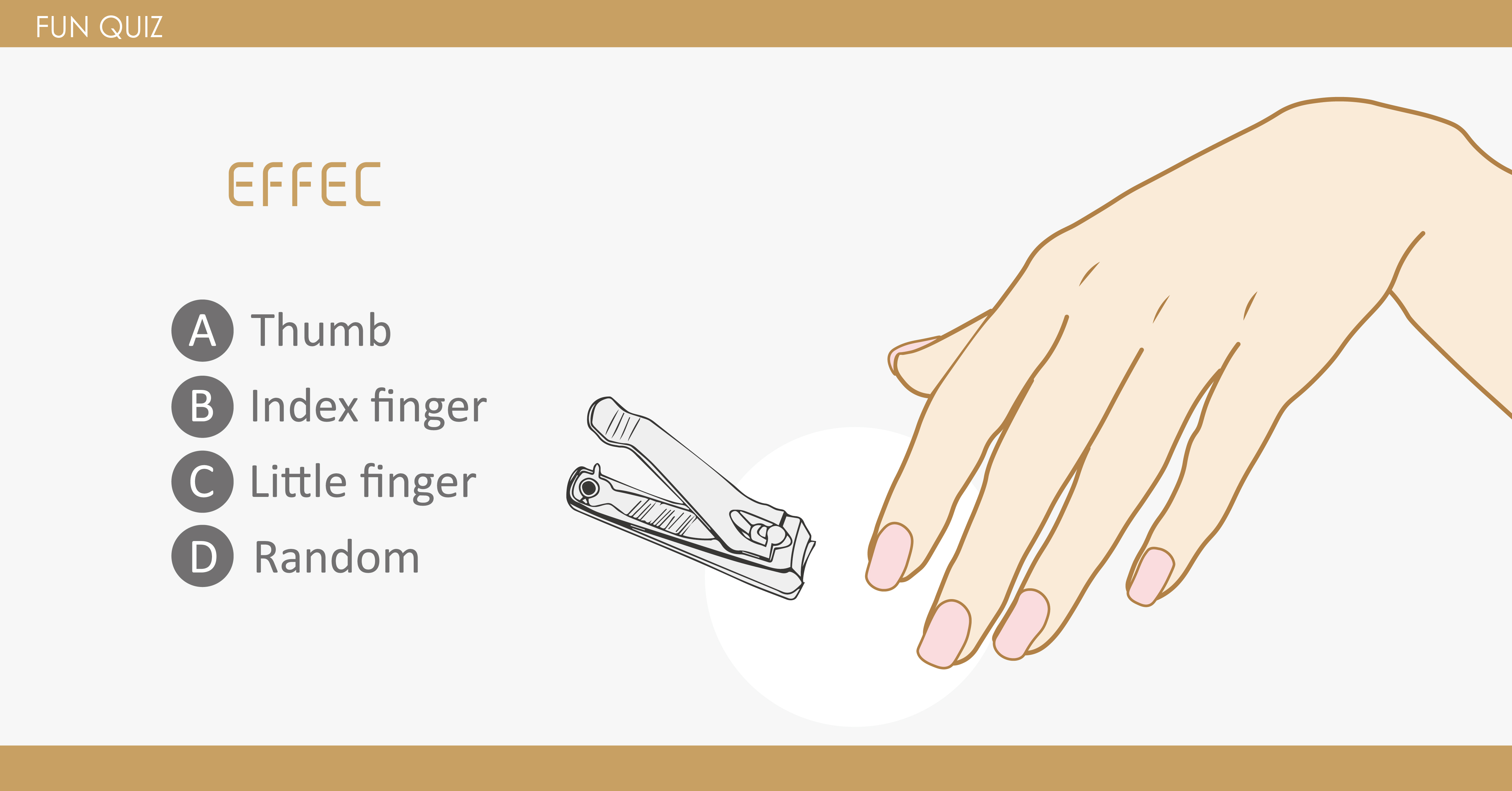 Analyze your temper and personality
Q : Which nail of finger will you start cutting ?
A. Start from Thumb
Extroversion
Maybe you seem to be talkative, but sometimes you feel very tired, don't really want to talk, don't really want to please everyone, unless you are familiar with someone, you can speak out from your heart.
Internal
You like to be flexible in life but also organized. Although you are not a profit-oriented person, you pay attention to goals and rewards. You don't like too complicated process. If you can quickly achieve any purpose, such as getting rich quickly, you will be willing to try your best, and often have the idea of "when can I stop these things and live a happy and prosperous life."
外在性格
也许你看似健谈,但有时内心里你会觉得累,不是很想说话,不是真的想讨好每个人,除非是面对很熟悉的人,你才能真正的说出心里的情绪。
內在性格
你喜欢生活上富有弹性但又具备条理性,你虽然不是利益导向的人,但是你十分注重目标性与报酬,不喜欢过于复杂的情节,如果可以快速达到任何目的,比如快速致富、快速成功,你会很愿意尽力尝试,甚至时常有一种「什么时候我可以不要再管这些事,过着开心、富足的隐居人生」的想法。
A. Start from Index finger
Extroversion
In ordinary words, you are a conservative route, and you are not free to reveal your wisdom. If you know how to look at it, you will first assess what role the other person is. What is the situation now, what kind of words should you throw, so you will speak very, very advanced.
Internal
In life, you can be joker or be serious. You like to experience all new things and learn it. You also like to strictly demand self-improvement. You have a multidimensional personality, strong adaptability, and you can work in any situation. Very flexible, you will think "I want to show my best side in this field, make a good impression in front of this person", very know how to manage the network.
外在性格
平常言谈上你属于保守的路线,不随意坦露自己的智慧。你算是懂得察言观色,会先评估对方是什么角色,现在是什么场合,你最好该丢出什么样的话,所以你非常会讲话,非常高深。
內在性格
在生活处世上,你可以玩笑以待也可以严肃以正,你喜欢体验各种新鲜的事物吸取新知,也喜欢严格要求自我精进自己,你拥有多面性格,适应力极强,可以在任何场合游刃有余,极富弹性,会想着「我要在这个场子表现出我最好的一面、我要在这个人面前留下很好的印象」,非常懂得经营人脉。
A. Start from Little finger
Extroversion
Your momentum is very good. Although you are in a new environment and meet new people, you can always hold the whole atmosphere and give people a feeling of being very talkative, confident and trustworthy. Has a great deal of charm.
Internal
Can bend and stretch, very potential. When you need to have a posture, you can fully demonstrate the power and momentum of the supervisor, always can suppress the scene. However, if you are faced with a person who open to persuasion, but not to coercion, you also can show a very well, "what kind of person will give him what sweetness".
外在性格
你的气势很足,尽管是到了新的环境,遇到了新的人,但你总能把持住整个氛围,给人一种很健谈、很有自信、很能托付的感觉,是个天生有魅力的人。
內在性格
你处世应对上能屈能伸,可塑性极高,面对需要有架势的时候,你能够充分表现出主管般的魄力与气势,表现出该有的气势,总能帮大家镇住场面,很有派头,但若面对的是吃软不吃硬的人,你也能够展现十分圆滑却不失本位的一面,「遇到什么人就给他什么甜头」,延展性极强。
A. Start from Randomly
Extroversion
Maybe you seem like to be talkative, but sometimes you feel tired and don't want to talk. In addition, your true words will usually be left to true friends, and even more familiar people will not say more.
Internal
You are a very curious person, and very inclusive, so you will experience all new things and learn new things. You are a person who is strict with yourself and who strictly demands yourself. At the same time, you are very adaptable and can be used in any situation.
外在性格
也许你看似健谈,但是有些时候内心里你会觉得累,不想说话。此外,你的真心话,通常会留给真正的朋友倾诉,而就算比较熟悉的人,也不会多说。
內在性格
你是一个好奇心很强的人,包容性也很强,所以你会去体验各种新鲜事物,吸取新的知识。你是一个严以律己,严格要求自己的人,同时你的适应力极强,可以在任何场合游刃有余。
Other skin care tips that you may also interesting: